Current Work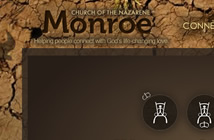 Monroe Nazarene Church
Monroe Nazarene Church is revamping their site completely. In order to better reach their community, they are asking for a stronger social site that brings visitors back, and encourages them to become a part of the commnuity.
Media: Web Development
Dimension: Formatted for 1024x768
Portfolio

View
Muse
Users Don't Care, At First
There is a constant struggle in my mind between form and function. Being design is always at my the forefront of my thought process, I get frustrated very quickly when a process is not optimized and does not flow in a user friendly way. I am not sure this holds true however for the general […]
Bio
I am an Interactive/Graphic Designer out of Monroe, MI. I currently work for the
Hanson Inc.
and do a lot of freelance work in Graphic, Web, and Interactive Design.
Follow @chasryder